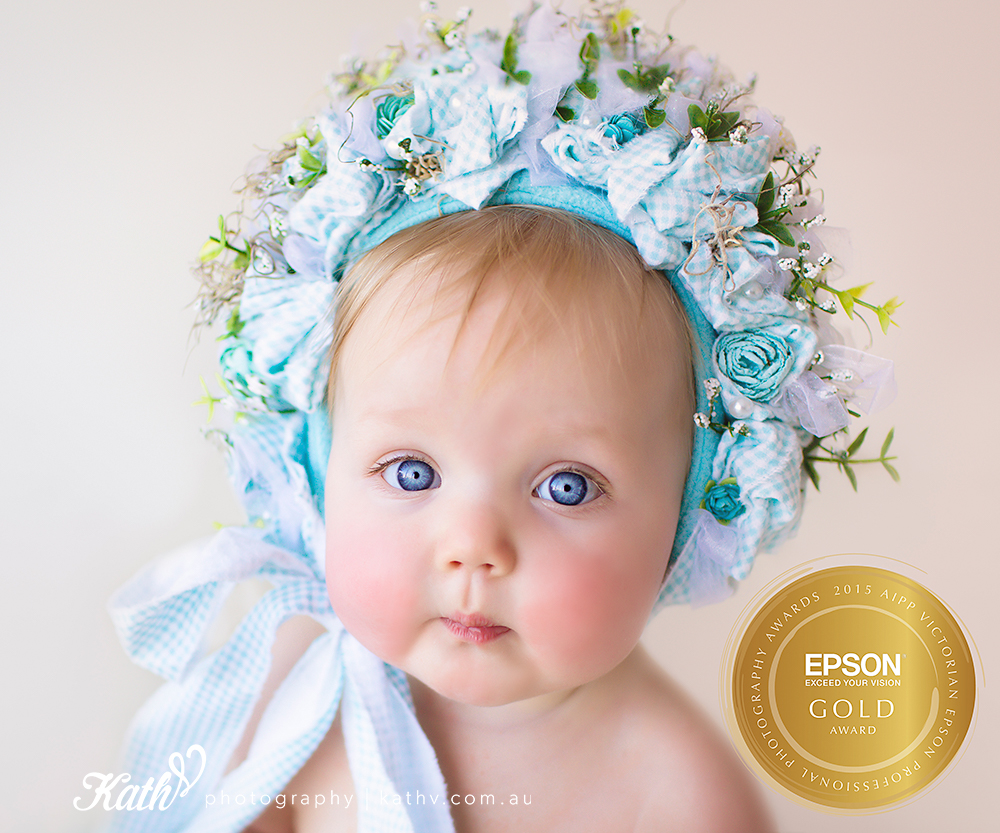 Life is made up of everyday special & beautiful moments. We never want to forget the smaller details we love and adore.
Kath Vergara of Kath V. Photography can help you remember these moments by capturing & creating gorgeous images of your little ones.
Her beautiful natural light photography studio is located in Sunbury, which is north-west of Melbourne. More about Kath V.
Newborns are perfect little beings, so tiny, sleepy and curly squishy little bodies. Being able to capture and preserve the essence of them being little is a reward in itself.
The Sitters Session is for babies aged between 6 - 10 months and a great follow up from my newborn session. It's my favourite age to capture!
BEHIND THE CAMERA
Based in Melbourne, Kath V. is the vision behind Kath V. Photography and regarded as one of the World's most talented and progressive newborn and baby photographers. Kath's natural ability is complemented by an imaginative styling and design sense, which explores a fanciful and enchanting genre.
Over the past six years, Kath has continued to refine her distinct technique and draws inspiration from every baby starlet that graces the studio. Kath's relentless strive for perfection is consistently reflected in her ability to capture the perfect moment in a classical yet contemporary portraiture.
Kath is a highly sought after International Speaker and Educator having taught and presented in 5 Continents, 20 countries and 42 cities.
Her workshops have been successfully run in:
Australia, Philippines, USA, England, Netherlands, Germany, Belgium, Italy, Spain, Poland, Switzerland, France, Japan, India, Mexico, Brazil, Canada, China, Argentina, Turkey and UAE.
Kath's proudest moment was presenting in front of 450+ Brazilian photographers in August 2017 in Sao Paulo Brazil.
Behind the scenes, Kath runs a profitable and growing business, which she rates equally important as the quality of her work. Her astute business knowledge, marketing and sales techniques have seen Kath V. Photography as one of the World's most successful newborn and baby photographer, mentor, educator and speaker.
For more information on Kath V's COLOUR & STYLE WITH CONFIDENCE NEWBORN + SITTER WORKSHOP click here.
THE STUDIO - MELBOURNE
An excerpt from Kath's blog:
To say I love my studio is an understatement! It is everything I have ever wanted and so much more! It is an overview of my style, an extension of my personality, the realisation of my vision, my happy place to create art, my heaven on Earth...my dream studio!
The studio was designed by me and built by my amazing super handy husband John with the help of my Dad, brother James, brother in law Paul...and Piper (if she wasn't making a mess! lol) too!
Read her full blog entry about the studio build here.
People Magazine posted a video of Kath's work on their Instagram account
Thank you People (OMG!!!) for featuring my work especially focusing on my favourite genre to photograph - my SITTER SESSIONS. I fell in love with sitter sessions 6 years ago while photographing (and practising with) my daughter Piper and it was always my dream to specialise in this field. Sitter sessions were not popular back then, there were limited prop vendors for this age and it was a struggle to book clients of this age. I did numerous free sessions to build up my portfolio. I stalked the supermarkets and department stores for baby models and potential clients (I know a little creepy but I was desperate). I had a couple of ups and downs. It was not easy for sure.
Fast forward 6 years later, and it's a different story! Hard work, passion and drive paid off...with a bit of luck of course.
I am so thankful for this amazing job I have right now!
Sincerely,
Kath Vergara
Kath V. Photography - Melbourne
2016 Australian Institute of Professional Photography (AIPP) VIC FAMILY PHOTOGRAPHER OF THE YEAR
Kath V. is deeply humbled and honoured to have been awarded 2016 AIPP Victorian Family Photographer of the Year and 'finalist' 2016 AIPP Victorian Newborn Category.
For her, winning is great but being awarded this prestigious title with her 'everyday newborn and baby photography client work' is an amazing humbling achievement. The images Kath entered are the exact same images she provides her precious Melbourne clients. Every single one of these award winning images are a true representation of her style, passion and everyday work.
This endorsement and validation of Kath's work by the industry body which is the Australian Institute of Professional Photography (AIPP), has been one one of the biggest highlights of her career.
Newborn Photographer Melbourne | Melbourne Newborn Photographer | Newborn Photography Melbourne | Melbourne Newborn Photography | Newborn Photography | Newborn Photography | Newborn Photography Workshops | Professional Photographer Sunbury | Baby Photographer Melbourne | Baby Newborn Photographer | Baby Photography Melbourne | Melbourne Baby Photography | Baby Photography | Baby Photography | Baby Photography Workshops | Melbourne Professional Newborn Photographer | Essendon Professional Photographer | Professional Newborn and Kids Photographer | Newborn Photography Moonee Ponds | Niddrie Newborn Photographer | Melbourne Newborn Photographer | Newborn Photography Melbourne | Newborn Photography Melbourne | Newborn Photography Workshop Melbourne | Newborn Photographer Sunbury | Professional Newborn Photographer | Newborn Photography Mentoring | Photographer Melbourne | Baby and Newborn Photography | Newborn Photography | New Baby Photography | Photographer Sunbury | Photographer Brunswick | Baby Portraits | Newborn Photographer | Melbourne Photographer | Photographer in Melbourne | | Newborn Photographer Sunbury | Melbourne Newborn Photographer | Melbourne Professional Photographer | | Baby Photographer Melbourne | Newborn Photography Toorak | Newborn Photography South Yarra | Newborn Photography Kew | Baby Photographer Balwyn | Baby Photography Templestowe | Sitters Photography | Sitters Photographer | Affordable Newborn Photographer| Professional Portrait Photographer | Photographer Melbourne | Newborn Digital Backdrops | Baby Digital Backdrops | Professional Photographer | Newborn Photographer Melbourne | Photographer Sunbury | Sunbury Newborn Photographer | Photographer Kyneton | Baby Portraits | Newborn Photographer | Melbourne Photographer | Newborn Photographers | Photographer in Melbourne | Melbourne Professional Newborn Photographer